A 3-day Certificated Foundation Rebozo Training workshop with world-renowned traditional Mexican Midwife Angelina Martinez-Miranda in her first teaching visit to London in the United Kingdom.
Angelina Martinez Miranda is a renowned traditional midwife living and practicing in Morelos, Mexico. The inheritor of three generations of midwifery wisdom; her mother, grandmother and great-grandmother were all traditional midwives, practicing for around 40 years each.
She started attending births when she was 7 years old. At 13 she became a mother herself to her first son and started attending births on her own. Angelina is married, has 5 sons and many grandchildren. Throughout her life she has attended over 15,000 births. Angelina is a long-term member of the Midwives Alliance of North America (MANA) and a founding member of a new state organisation created by the traditional midwives of Morelos.
Angelina travels all over the world giving talks and workshops and speaking at international conferences, sharing traditional Mexican practices enriched by modern midwifery and other topics she has studied, to keep up-to-date with evidence-based obstetrics. She is very well respected and is a strong source of inspiration for the many traditional midwives in Mexico who are working to preserve and revitalise their profession for the future.
The emphasis of the workshop is on supervised practice because this is the only way to ensure you leave the weekend feeling fully confident to start using your newly acquired skills straight away. It is a self-contained workshop, but it may be followed up by further training on Advanced Rebozo Techniques and Sobada, Traditional Mexican Womb Massage taking place in 2018. There are also plans for a Traditional Doula Programme on the cards and this workshop would be an essential component of it, so stay tuned.
You do NOT need to be a qualified midwife, doula or birth worker to attend and benefit from this workshop. 
At the core of these workshops lies the ethos of sharing this ancestral wisdom in a (a) respectful and (b) sustainable manner. To this end, we are proud that a percentage of the income brought about by this Workshop is dedicated to funding the apprenticeships of indigenous Mexican women, thus giving back in very practical ways to the source of all this ancestral wisdom AND to ensure your practice is ethical, responsible and grounded on a lineage of midwives that goes back generations. These indigenous women are trained as apprentices and have had to work on the land, building sites or as maids or cleaners, with some of them in cases even being the main bread-winners in their families. Your support goes towards providing them with this income they cannot afford to lose, plus their travelling and living expenses with Angelina as many of them come from rural areas far away. You can see 2 of these apprentices learning placenta medicine from Angelina in the picture below.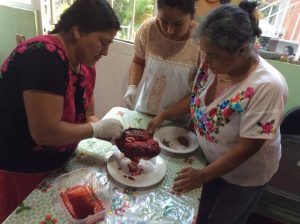 Another way in which this workshop gives back is our rebozos. They are 100% cotton and fair-trade (though not certified fair-trade), and specifically hand-loomed for birthwork by a family of rebozo weavers in Oaxaca (South of Mexico) with whom Angelina has worked for a number of years. Our rebozos are sold exclusively to workshop participants because Angelina does not lead a rebozo shop, but is rather the keeper of Rebozo Wisdom.
CONTENTS
The cosmovision of Traditional Mexican Medicine in relation to pregnancy and birth, including the role of midwives and birth workers in pre-colonial and modern times
Rebozo, its history and significance in Mexico
Traditional Mexican antenatal care practices & techniques using the rebozo
The herbal apothecary for antenatal care
The use of kakaw (Cacao) during pregnancy
Demonstration of a Cerrada, the traditional Mexican sealing ceremony for postpartum (there will be Cerrada workshops throughout the year facilitated by Mayella Almazán-Arreola so you can receive and learn how to give Cerradas)
METHODOLOGY
3 days of intensive teaching and supervised practice
To gain your Certificate, you are required to complete 3 case studies. Two of the case studies must be clients you see a minimum of 2 times up to a maximum of 4 times. The other case study can be an individual session with a follow-up telephone call, text or email message.
All Case Studies must be submitted within 6 months of completing the training.
The Certificate signed by Angelina will account for the hours spent at the training (24 hours) plus an extra allowance of 6 hours for the case studies making a total of 30 hours.
A limited number of spaces are available due to the practical nature of the workshop.
WORKSHOP VENUE AND SCHEDULE
Oblate Retreat & Spiritual Centre
DeMazenod House, 62 Chamber Street
Tower Hill
London, E1 8BL
Friday September 15th, 9.30am for Registration and a 10am sharp start ending at 4.30pm
Saturday September 16th, 10am start ending at 5pm
Sunday September 17th, 10 am start ending at 4.30pm
ACCOMMODATION NEARBY
Travelodge

London Central Tower Bridge
London Central Aldgate East

Premier Inn London Bank (Tower)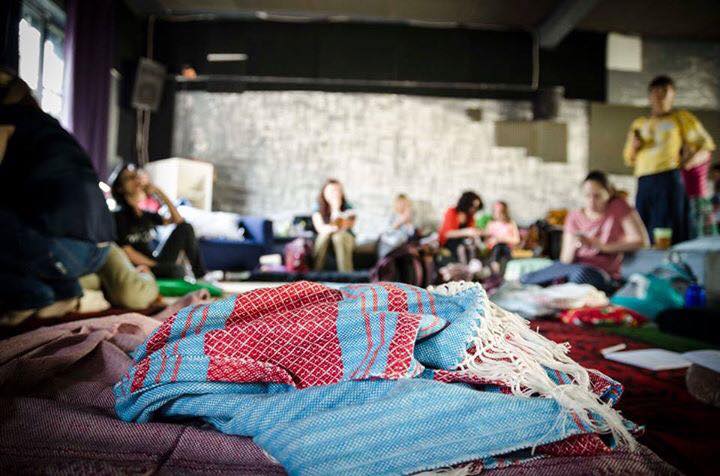 INVESTMENT
£800 includes
–  3 days intensive teaching and supervised practice
–  Manual
–  Listing in the directory of Certificated Practitioners in Angelina's upcoming website
–  ONE authentic Mexican rebozo
PAYMENT SCHEDULE
Payment of £700 before the workshop
£200 non-refundable, but transferable deposit secures your space. If you are on call and have paid the deposit and cannot make it to the training, you will be welcome to use these funds and join the next equivalent workshop in 2018. Alternatively you can transfer your place to someone else.
4 further payments of £125 to be made between May and the 10th of September
Final £100 to be paid on submission of your Case Studies
PAYMENT DETAILS
Mayella Almazán-Arreola
Ulster Bank , Account 2200 0070, Sort Code 98 -10-75
Please send an email confirming each one of your payment to hello@yosoygaia.com so we can send you a list of things to bring to the workshop.
Muchas gracias !