GETTING THERE
Fumbally Stables can be reached from Dublin International Airport by car within 30-40mins depending on traffic.
For those planning to drive here, please note parking is restricted around the Fumbally Stables, even on Sundays, please read the street signs.
Local buses stop near Fumbally Stables is called Warrenmount New Street South served by buses 49 and 54a, find out more https://www.transportforireland.ie/
Using the LUAS transport system, the nearest stop is Harcourt Luas Stop and then walk 10mins, find out more https://luas.ie/
COMO LLEGAR
Si viajas del aeropuerto internacional de Dublín a Fumbally Stables, tu viaje tomará alrededor de 30-40mins dependiendo del tráfico.
Si planeas venir en coche, por favor toma en cuenta que aparcarse en la calles aledañas al centro Fumbally Stables es muy restringido incluso los domingos, por favor lee los señalamientos públicos correspondientes.
La parada de buses locales más cercana a Fumbally Stables se llama Warrenmount New Street South y en ella puedes tomar los servicios número 49 o 54a, para más detalles visita la página  https://www.transportforireland.ie/
Si prefieres usar el sistema de transporte LUAS , la parada más cercana se llama Harcourt Luas Stop y luego deberás caminar por 10mins, más detalles aqui   https://luas.ie/
DON'T GET LOST / NO TE PIERDAS 
Fumbally Cafe is found in the corner, but FUMBALLY STABLES is around the corner down the alleyway just as shown in the pictures below.
El Café Fumbally se encuentra en la esquina, pero la entrada a FUMBALLY STABLES se encuentra en el callejón como muestran las fotos debajo.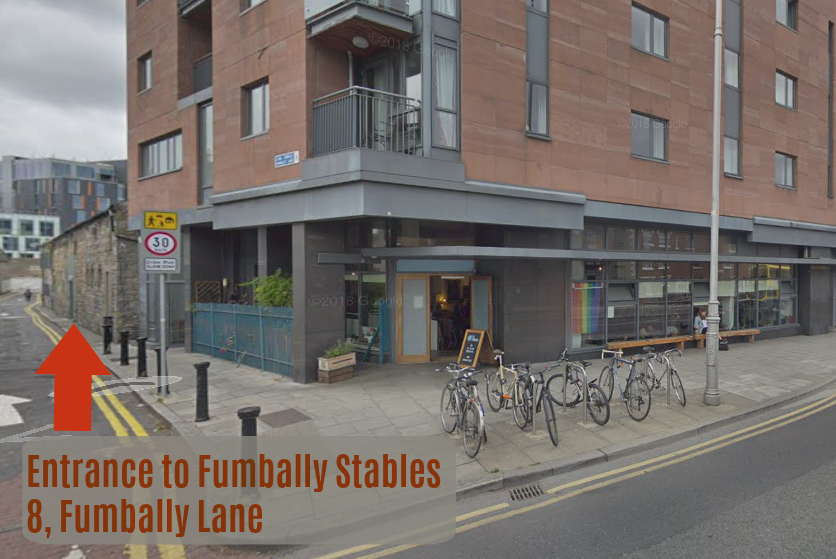 ACCOMMODATION NEARBY
AirbNb search for "Dublin 8" area. Para hospedarte con AirbNb, busca opciones en la zona de "Dublin 8" . A FB group will be created with workshop participants to facilitate accommodation-sharing using AirbNb.
HOSPEDAJE CERCANO
Hostal Times- Camden Place

Para hospedarte con AirbNb, busca opciones en la zona de "Dublin 8". Se creará un grupo de FB con  participantes de cada taller para facilitar el que puedan compartir hospedaje con el sistema AirbNb.
FOOD OPTIONS
Lunch prepared by the Fumbally, €15 per lunch per day. Please email us womblessingireland@gmail.com if you are interested in this option INCLUDING dietary restrictions/allergies so we can send you the menus nearer the time.
WITHIN 10 MIN WALK FROM FUMBALLY
Cafe Bliss  (Healthy choices, halal)  48 Montague St
Boojum (Mexican) 6-10 Kevin Street Lower
Las Tapas de Lola ( Spanish ) 12 Wexford St
Sova Vegan Butcher, 51 Pleasants St
Zakura Noodle & Sushi Restaurant, 13 Wexford St
OPCIONES PARA ALMORZAR
Almuerzos preparados por Fumbally con un costo de €15 por almuerzo cada dîa, si te interesa esta opción, envíanos un email a womblessingireland@gmail.com con tus requerimientos y alergias para que te enviemos los menús más cercana la fecha.
A 10 MINUTOS A PIE DEL CENTRO FUMBALLY
Cafe Bliss  (Healthy choices, halal)  48 Montague St
Boojum (Mexican) 6-10 Kevin Street Lower
Las Tapas de Lola ( Spanish ) 12 Wexford St
Sova Vegan Butcher, 51 Pleasants St
Zakura Noodle & Sushi Restaurant, 13 Wexford St