Traditional Mexican Herbalism for Fertility, Birth & Postpartum (inc. baby)
A ONE-DAY hands-on workshop on traditional Mexican herbalism for fertility, pregnancy and birth for self care. It is suitable for ALL MEN AND WOMEN
CONTENTS
The cosmovision of traditional Mexican Medicine in relation to health & wellbeing throughout life
The use of herbs in traditional Mexican medicine, working with the spirit of herbs, the importance of using local herbs, connecting with herbs
The herbal apothecary for, including the traditional use of cacao, for fertility, pregnancy and postpartum.
This will be a practical hands-on workshop where a number of remedies will be created: fertility tonics, herbal infusions, balms, clay packs, massage oils, cacao drinks, etc. All materials will be included in the cost.
Important: please note this workshop is aimed at self-care and it is not a herbal practitioner workshop.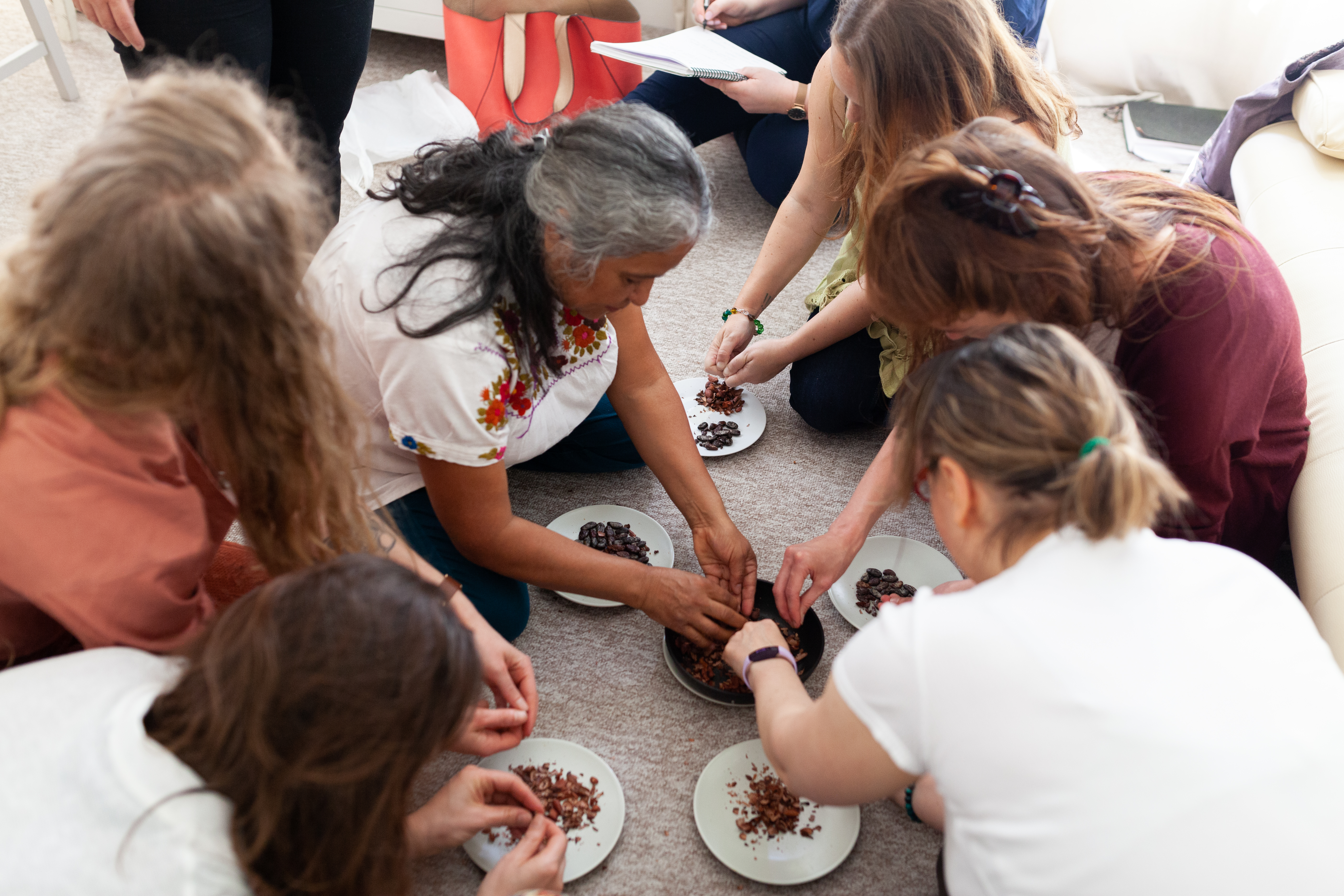 HOW THESE WORKSHOPS ARE DIFFERENT FROM SIMILAR ONES
At the core of these workshops lies the ethos of sharing this ancestral wisdom in a (a) respectful and (b) sustainable manner. To this end, we are proud that a percentage of the income is dedicated to funding the apprenticeships of indigenous Mexican women learning directly from Angelina, thus giving back in very practical ways to the source of all this ancestral wisdom AND to ensure your practice is ethical, responsible and grounded on a lineage of midwives that goes back generations.
These indigenous women are trained as apprentices and ha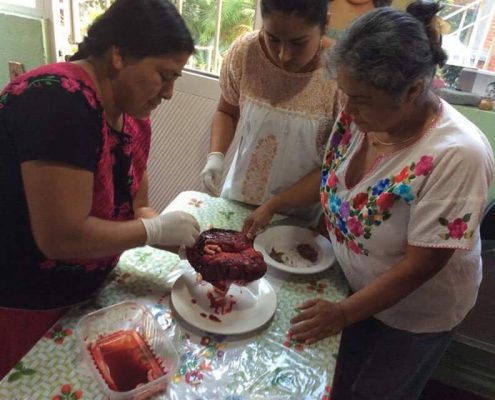 ve had to work on the land, building sites or as maids or cleaners, with some of them in cases even being the main bread-winners in their families. Your support goes towards providing them with this income they cannot afford to lose, plus their travelling and living expenses with Angelina as many of them come from remote rural areas. You can see 2 of these apprentices learning placenta encapsulation from Angelina in the picture.
Another way in which these workshops give back is our rebozos. They are 100% cotton and fair-trade (though not certified fair-trade), and specifically hand-loomed for birth work by a family of rebozo weavers in Oaxaca (South of Mexico) with whom Angelina has worked for a large number of years. Our rebozos are sold exclusively to workshop participants because Angelina does not lead a rebozo shop, but is rather the keeper of Rebozo Wisdom.
You do NOT need to be a qualified herbalist, birthworker or doula to attend and benefit from this workshop. 
No previous experience is necessary either. 
SCHEDULE   Thursday 27th of May, 2020  9.30am for Registration and a 10am sharp start ending at 5.30pm
PAYMENT DETAILS
Please email us to forward you banking details. When you register in this workshop, you agree to the Terms and Conditions outlined at the bottom of this web page.
¡ Muchas gracias !
TERMS AND CONDITIONS 
You must not rely on the information on this workshop as an alternative to medical advice from your doctor or other professional healthcare provider.  If you have any specific questions about any medical matter you should consult your doctor or other professional healthcare provider.  If you think you may be suffering from any medical condition you should seek immediately medical attention.  You should never delay seeking medical advice, disregard medical advice, or discontinue medical treatment because of information on this workshop
Any information presented on this workshop, our services, products, classes, manual, articles, Facebook group publications, and trainings is not intended to represent they are used to diagnose, cure, treat, or prevent any medical problem or psychological disorder nor are they intended as a substitute for seeking professional health care advice and services.

The Organiser reserves the right to refuse You entry to and/or eject You from the Event. In particular but without limitation You may be refused admission to or removed from the Event for any of the following reasons: for health and safety or licensing reasons; if You behave in a manner which has or is likely to affect the enjoyment of other persons at the Event; if You use threatening, abusive or insulting words or mannerisms; if, in the Promoter's reasonable opinion, You are acting under the influence of alcohol or drugs.

By attending the Event, You give Your express consent to being included within any film, photograph, audio and/or audiovisual recording to be exploited in any and all media for any purpose at any time throughout the world, the copyright to which shall be owned by Angelina Martinez or her organisers without payment or compensation.

Due to Angelina Martinez's rights and obligations, You cannot bring any video or audio recording equipment or any camera onto the Venue site. You will not be allowed to enter the site if You bring equipment that, at the discretion of our security, infringes on these rules.